Extraction by Stephanie Diaz - 4 STARS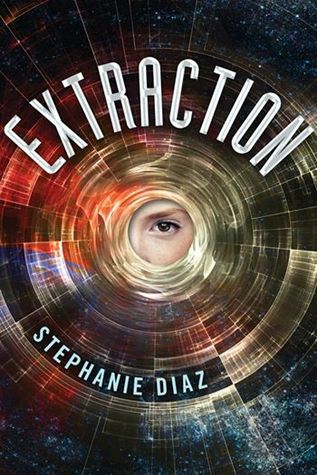 Synopsis
-
"Welcome to extraction testing"
Clementine has spent her whole life preparing for her 16th birthday when she'll be tested for Extraction, in the hopes of being sent from Kiel's toxic Surface to the much safer Core, where people live without fear or starvation. When she proves promising enough to be "extracted," she must leave without Logan, the boy she loves. Torn apart from her only sense of family, Clem promises to come back and save him from brutal Surface life. What she finds initially at the Core is a utopia compared to the Surface—it's free of hard labor, gun-wielding officials, and the moon's lethal acid—but life is anything but safe, and Clementine learns that the planet's leaders are planning to exterminate Surface dwellers—and that means Logan, too. Trapped by the steel walls of the underground and the lies that keep her safe, Clementine must find a way to escape and rescue Logan and the rest of the planet. But the planet's leaders don't want her running—they want her subdued.
* A Copy provided by Netgalley in exchange for an honest review.
Overall:
Young Adult Dystopian
Characters:
Clementine
Page Turner:
towards the end
Series Cont.?
Yes
Book Boyfriend:
Genre: Young Adult Dystopian
Sex Scenes: No
Setting Future....
recommend if you like...Divergent, Burn Out, Across the Universe
Overall-
This book started off a little slow, and took time to really build...the first half of the book focuses on the characters and the world building before getting in to the real problem which was alluded to frequently, but isn't all that different from the other books in this genre. There were definitely problems in the book, couldn't figure out why one character in particular was even needed, or why that issue was driven, period. It seemed pointless. There were a few times like this though where I was unclear on the direction or purpose of a plot point or character, sometimes it was revealed and sometimes I felt we were left hanging. I think the similarities between Divergent and Across the Universe were a bit too much to make this a stand out, but its still a decent book!
Now I won't say it was all bad, those were just my gripes, there were some good points. There was a good amount of action at the end, and quite a few twists towards the end that I really didnt see coming! I knew something sinister was going on, of course, but I certainly didnt figure it out. I was pleasantly surprised with Clementines relationship with Logan, I appreciated that the author really built their friendship and love for one another over time and it had a true foundation.
Characters-
Clementine-I found this character to be a little annoying at times. Based on her background having come from "above ground" and living in a harsh life she was quite naive and surprised by the behavior of those around her. I was irritated by some of the stupidity. But she was also strong when she needed to be, and rose above all else (reminds me a lot of Divergent though). Clementines best characteristic though is her loyalty to her friends. I really appreciated this aspect of her character, that no matter what happened, her thoughts ALWAYS went to Logan or to those she cared about. It was also refreshing that there was no love triangle. I think as Clementine develops more over the novels that I will like her more and more.
Logan- I like Logan but I don't love him. I don't know why he needed to have a limp, or what it added to the book (unless he had gotten during his testing....but he didnt...now that would have been interesting!) I found him to be sweet, kind caring, charismatic. Except he was lacking in the strength department, and as a male lead, I tend to want someone who is strong, more so than mentally (and I don't mean intelligence) he seemed like a good person, someone to be friends with, but I wasn't entirely sure what type of romance Logan and Clementine really had. Perhaps over time it will develop, as this romance was not developed while their friendship was.
Other Side Characters- (Beechy, Ariande, Oliver)- I really liked the different dynamic that Clem had with the different characters. Clem was her own person, and even when she was trying to fit in, the other characters really help mold her. I didnt feel like the characters were simply "there" , they actually added value to not only Clems character but to the book, the process, the plot, and moving things forward. I was confuse by Beechy at first, and thought there might be a love triangle but the author went in a different direction, which I appreciated. Im most interested though in seeing where the series goes from here, it was evident from the ending that the characters had a continued story, but where it will go, is a little up in the air...