Day 21 by Kass Morgan (The Hundred #2) - 3 STARS
** You must read The 100 before reading this one.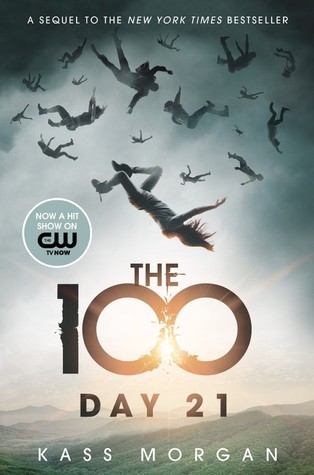 Synopsis
No one has set foot on Earth in centuries -- until now.
It's been 21 days since the hundred landed on Earth. They're the only humans to set foot on the planet in centuries...or so they thought. Facing an unknown enemy, Wells attempts to keep the group together. Clarke strikes out for Mount Weather, in search of other Colonists, while Bellamy is determined to rescue his sister, no matter the cost. And back on the ship, Glass faces an unthinkable choice between the love of her life and life itself.
In this pulse-pounding sequel to Kass Morgan's
The 100
, secrets are revealed, beliefs are challenged, and relationships are tested. And the hundred will struggle to survive the only way they can -- together.
*I received a copy from Netgalley in exchange for an honest review
Overall: Great new take on Dystopian
Characters:
Clarke, Glass, Belamy, Wells, Octavia
Page Turner:
Yes
Series Cont.?
Yes
Book Boyfriend: hm...not sure yet...
Genre: Dystopian
Sex Scenes: No
Overall
Generally I really liked this book. There were some things that threw me off, and I frankly liked the first one more, but overall I still liked and enjoyed this one.
First off, I really like Kass Morgan's writing style, its simple but beautiful.
I also really liked the new characters that were introduced. This book takes a completely different turn than the TV show, so for this book, it was a lot easier to read without constantly thinking how did they do this in the show, or that was/not in the show hm... These thoughts plagued me throughout the first book, whereas this book was so different I had no show to compare to.
The new plot and characters were interesting and I found that I really liked them, however, there were a lot of things wrong with this book too. I didnt like the ending. Nope. Not one bit. (no spoiler here ii you read the 1st book). The only good part about the ending is that it reminded me of the TV show and whether more people are coming to Earth. The whole Earthborn thing at the end was weird, and awkward and seems like the author just didnt flesh out the issue enough.
While the world building in book 2 was better than book 1, which I mention in that review, Im still a little confused about some things that just seem out of place. (minor spoiler: for instance, I dont understand how it took Clarke and Bellamy two days to walk what later took him 6 hours to walk? huh?) Or as another reviewer mentions what exactly is the Catalysm, and for that matter how the all call "it" the same name? The pacing of this book is much like the first one, its steady, with plenty of change in characters to keep the reader guessing and wanting more.
This time around I liked Glass a lot more. Her narrative became so much more interesting over the course of this book! I couldnt believe the things that people are willing to (or not do) to survive. The other characters all remained the same, I enjoyed them and their storyline and was happy to see some of the relationships progress. Clarke and Wells are still my favorite characters. And I still wish Octavia had more involvment (or her own chapters). I was disappointed that there was a lack of growth in the actual characters (between one another yes, but actual characters no) I was glad there was romance, because lets face it, nothing else happened in this book, but I wish the plot had really been thickened more, I feel like everything that happened occurred quite SLOWLY even though while reading the book it doesnt feel that way. The change in characters POV really throughs me off. Sometimes I like the change, its nice to get a different perspective (the ship versus land) BUT it really wasnt necessary to have all four voices, I really wish more action had occurred during this book. Really it didnt seem like anything happened considering its 300 + pages really more on Earth should have occurred...
It was so interesting to see Kass's take on humanity, shown in various settings and ways throughout this book, afterall thats really what this book is about, survival and humanity. And frankly, I like her take, its painful, but beautiful, and shows the reality and severity of these situations.
So, In the end, I liked this book, BUT it is not one of my favorites and honestly I wouldnt recommend it. Just because I enjoyed something while reading it doesnt make it good. This is a book/series for someone to read that is looking for a simple, easy, but enjoyable 1 day read, but it isnt going to blow your mind. Sorry.