True Calling by Siobhan Davis 2 STARS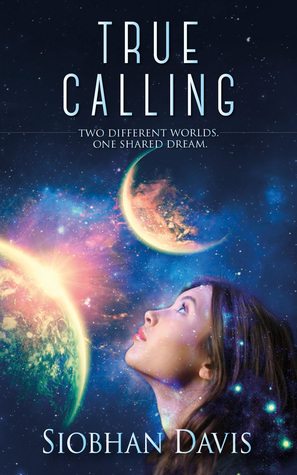 Synopsis
-
Planet Novo, nestled in space twelve hundred miles above the surface of the Earth, is the new home of 17 year old Cadet Ariana Skyee. Confused by the government-sanctioned memory erase and distressed at her impending forced marriage and motherhood, Ariana's plans for the future are thrown into complete disarray.
As the traumatic events within her family life enfold, Ariana grows increasingly alarmed at the authorities apparent pre-occupation with her and feels progressively more isolated and alone.
Her growing feelings for fellow Cadet Cal Remus intensify as the recently announced pageant, 'The Calling', gets underway. Struggling to comprehend the continuous, inexplicable dreams of the mysterious Zane, discovering the past helps shape her future, with devastating personal consequences.
* A Copy was provided by netgalley for an honest review.
Genre: Young Adult Dystopian/Science Fiction
Overall Thoughts: Engaging but similar to a lot of other books out there
Characters:
Ariana, Cal, Zane
Page Turner:
Sometimes
Series Cont.?
Yes (I think)
Recommend if You Like
…A Million Suns, the selection
Book Boyfriend: Cal and Zane, not sure who I like more.
Sex Scenes: No
Overall -
Halston Sage
So Im a little disappointed. I really wanted to like this book, I really did. In fact, I think the plot, with a little more fleshing out and a lot more dialogue could be pretty brilliant. But unfortunately, I think the book should have undergone some severe beta reading. I know how difficult it is to write a book, and that it a process, so much effort goes into any book. So I truly HATE giving negative reviews. Also, not sure I can really classify the book as a dystopian since its more romance than anything else.
My biggest issue with this book is the lack of dialogue and actual motion. The plot of True Calling, while reminiscent of quite a few other dystopian novels, especially so in the beginning, (think Hunger Games meets the Selection meet fertility book.) But over the course of the book, the plot does get better and better, and I find myself interested in the plot. BUT there are a ton of flaws that really had me frustrated while reading. Admittedly, I was able to finish the book and intrigued. So this isn't a book to stay away from in that sense, rather it lacks maturity.
This is a young adult dystopian for someone who may not be familiar with Hunger Games and other popular dystopian books (say someone just starting off). The familiarity and resemblances are uncanny at first and very easy to spot, but as the plot builds and thickens, the likeness fades. What doesn't fade are the other problems. The main character Ariana, literally tells me everything. Nothing is really describes or shown to me, Im told. There almost NO dialogue throughout the entire book. Im told the characters talked about this that or the other, but the vast majority of the book is just Ariana's thoughts and feelings and senses. Yet there was also the added unnecessary twist of a love triangle.
Speaking of Ariana, while I enjoyed her character overall, I found her, especially towards the end to be really annoying. In the beginning, she was extremely distrustful, and wary of everyone. But over time it seemed almost as if she stopped questioning things, or stopped questioning them in the same way she used to. She also couldn't seem to put any of the pieces together, it was as if she just kept going along with things, without actually putting the different pieces together. I found that to be annoying, instead even her internal monologues were about the competition. And I found it odd that she fell into such an easy routine with Cal. Her behavior just seemed misplaced for someone so untrusting yet determined to be her own person.
Zane- I enjoyed his part a lot. It was my favorite part of the book. HOWEVER, with that said, I don't think that the placement of his small section made sense. In fact, I felt that it was completely misplaced. The author would have done better if she had incorporated more of Zanes voice through out the book, every few chapters put one in about Zane. He also didnt have to disclose who he was but it would have really helped with the flow of the book. I also would have preferred the issue of the rebellion than that stupid pageant. Otherwise, I loved Zane. He was amazing. I absolutely loved his character he was a great addition to this book, and one of the main reasons I kept reading and would pick up book 2.
Cal- I don't know how I feel about Cal. I honestly can't decide how I feel. It seemed that at the beginning I loved him, he was kind, sweet, gentle, and I found him to be a great character. But his anger and violence over the course of the book started to get to me. I really wanted to like him, but by the end of the book, I found myself untrusting and worried about Ariana.
There are quire a few things I would change about this story, outside of the writing. I really wish that the characters had behaved differently more than anything.